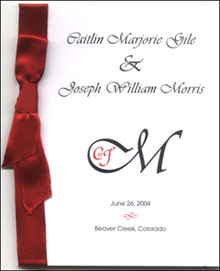 This four-panel ceremony program reveals the information as it unfolds. The cover includes a red satin wired ribbon, monogram, date, and location.

1. The cover opens to a poem.
2. The second level of information revealed is the list of ceremony participants.
3. When completely unfolded, the last level of information is the ceremony sequence and a note from the couple.
Click on an illustration to view the actual section of the program